Contested Divorce, Minneapolis, MN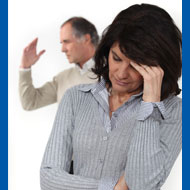 Hennek Klaenhammer Law, PLLC offers full service contested divorce legal representation to clients throughout the Minneapolis and St. Paul, MN area. We are conveniently located in Roseville, MN
Divorce is a difficult process and when it is contested, it is even more so. There are many factors to consider including children, assets and financial concerns. While we strive to help you mediate a fair resolution, sometimes reaching an agreement is just not possible. Thus, while we work hard to try to amicably resolve your case, we also have extensive litigation experience if settlement is not possible. Our Minneapolis divorce attorneys understand the complexities of divorce litigation, and have helped countless clients through this difficult process.
Divorce litigation consists of certain steps:
Initial Case Work

– The first stage of a contested divorce is the filing of paperwork. Our attorneys will sit down with you and go over your marital relationship in detail. We will need things like income statements, bank statements, credit card statements, mortgage and rental documents, property documents, and titles. Once we have all the information we need to draft the required paperwork, we can file a Petition for Dissolution of Marriage on your behalf.

Discovery

– This stage involves collecting additional information from your spouse or other persons or entities that possess required information. After consulting with you, we may meet with and hire other experts, such as real property appraisers, pension actuaries or vocational evaluators to obtain an opinion as to value of assets and ability to work.

Temporary Relief

– If your spouse is not being financially responsible while your case is pending, we can file a motion and obtain and order that governs how much is paid for temporary child support, temporary spousal maintenance as well as make a determination as to who stays in the marital home. During this time, we continue with the discovery process, which can take up to several months to gather all the necessary information. Sometimes, you and your spouse either already have and agreement, or can reach an agreement on a temporary basis.

Settlement Efforts

– Every case filed in Minnesota requires that the parties try to settle their case. We have many tools that can assist you, such as mediation, early neutral evaluations on custody and property and debt division. During this stage you and your spouse may be able to come to an agreement that benefits all parties. If efforts to settle your case are unsuccessful, the court will schedule your case for a pre-hearing conference, in which the judge can try to assist in settlement.

Trial

– If you cannot come to an agreement, you may need to go to court to let a judge determine equitable terms and conditions for your divorce. This can be expensive for both parties, but it is often necessary. Our divorce lawyers are experienced in court representation and will be by your side throughout the process to ensure that the determinations serve your best interests.
Choosing the right divorce attorney is vitally important. You need a lawyer who will fight for what you want and represent you the best way possible. Our divorce attorneys understand that this is an extremely difficult, complicated, and often time consuming process. We will always keep you informed throughout the proceedings and work with you to get the best possible outcome for you and your family.
Please call Hennek Klaenhammer Law, PLLC today at 651-633-4400 to discuss these issues or any other questions.